Certificates of Deposit (CDs)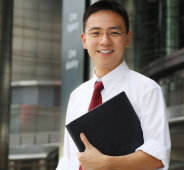 Business is a gamble. But you can bet on a sure thing. Set aside funds for a little while and you can earn a much better return with a CD than you would with a savings account.
Just pick the term that suits you, lock in the rate, and get back to running your business. When the term expires, you'll get your money back and have a healthy return too. A CNB CD is a smart investment for any company.
Summary

High fixed interest rates

Various terms to choose from

No monthly service fee

Interest penalty for early withdrawal

$500 minimum to open

Federally insured up to $250,000