Home Loans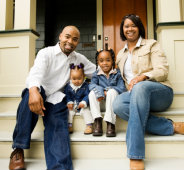 Buying a house is one of the biggest and most important decisions you'll ever make. Building a house might be even bigger. You shouldn't have to do either of them alone.
With a home mortgage loan from CNB, you'll get more than just competitive financing and flexible terms. You'll also get a commitment to personal service, meaning our loan experts will help you every step of the way, throughout the life of the loan.
Please contact us if you are interested in applying for a Home Loan.
Mortgage Loans

Fixed rate mortgages

Refinancing available

Competitive interest rates

Low down payment options

Pre-approval available

Low closing costs

Local processing and management

Home Improvement Loans

Make your current home even better. We offer low-interest financing so you can afford to repair the roof, build that deck, or renovate the kitchen.

Competitive interest rates

Flexible terms

Personal service

Experienced loan advisors

Local processing and management

Streamlined application process

Construction Loans

Build your dream home from the ground up with our short-term construction loans. We can lock in a good rate on a mortgage and consolidate them both into one loan to save you money on closing costs.

Competitive interest rates

Flexible terms

Customized interim construction and permanent home loans

Consolidated closing saves you money

Personal service

Experienced loan advisors

Local processing and management

Local credit approval means less red tape

Streamlined application process

MLO Numbers

For more information, please contact one of our Mortgage Lenders:




Jim Lloyd

#685751

254-697-6653

118 S Houston

PO Drawer 111

Cameron, TX 76520

jlloyd@cnbanktexas.com




Rita Juergens

#473107

512-446-5700

140 E Cameron

PO Box 712

Rockdale, TX 76567

rjuergens@cnbanktexas.com




Jonathan Kamenicky

#685748

512-352-7641

316 N Main

Taylor, TX 76574

jkamenicky@cnbanktexas.com




Tim Walther

#685750

979-542-3136

104 W Main

Giddings, TX 78942

twalther@cnbanktexas.com




Lloyd Hebbe

#685749

542-670-1200

601 FM 685

Pflugerville, TX 78660

512-670-1200

lhebbe@cnbanktexas.com




Cecil Bowen

#643228

512-352-7641

316 N Main

Taylor, TX 76574

cbowen@cnbanktexas.com




Brian Cauthorn

#729825

542-670-1200

601 FM 685

Pflugerville, TX 78660

512-670-1200

bcauthorn@cnbanktexas.com