e-Statements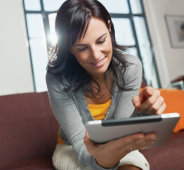 Save time, paper, and trips to the mailbox by receiving online e-Statements instead of paper ones each month. It's easier, more convenient, and doesn't cost a thing!
e-Statements look just like paper statements but are safer because there's no paper copy to be lost or stolen. They're always available through online banking, so you never have to bother with filing them away. Log into your account to start getting your financial information sent to your inbox rather than your mailbox.
Summary

View and print statements from your computer

Available through online banking

No waiting for mail delivery

Access statements anywhere, anytime

More secure than paper statements

Cut down on paper waste

No filing hassles

Easily store statements on hard drive or CD

How It Works

Confirm you are enrolled for online banking. (Not enrolled? Enroll now—it's free!).

Every month you will receive an email when your statement is ready to be viewed.

Click on the link in the email or go to this site.

Log into online banking.

Click on "History" and then "Statements."

Choose the account and the month of the statement you want to view and then click "Submit."

Your statements are available there anytime. You can also print a copy for your file or save it on your hard drive.

Note: Your statement and check images will appear in a PDF format. To view them you need free software called Adobe® Acrobat Reader®. Download it here free.