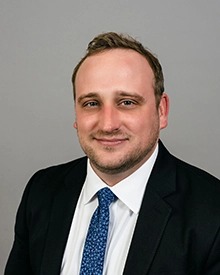 Branch President
Taylor, TX
Call Ryan
Email Ryan
LinkedIN
Taylor Branch President, Ryan Stiba, has been in banking now for over a decade. Currently attending Southwest Graduate School of Banking at SMU, he holds a bachelor's degree in Economics from UT Austin. He's held several positions over the years, including that of 'Loan Officer,' and his experience includes working for banks ranging in assets from $400 million to $1 trillion.
Born and raised in Taylor, Stiba finds much fulfillment in helping community members succeed financially. He recognizes the lack of personal finance education taught in schools these days and thoroughly enjoys opportunities to share his knowledge with others. Perhaps one of Stiba's favorite undertakings is to work with small businesses. Experiencing the creation and growth of a dream with these business owners provides deep personal satisfaction.
When not working, Ryan enjoys backpacking in the great outdoors, travel and cooking. He is also admittedly, a bit of a "news junkie", always wanting to be in-the-know. He treasures volunteering at his favorite charity tutoring young students in reading and math. Most of all, he cherishes spending time with his family.