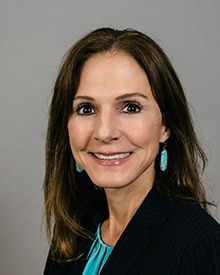 Senior Vice President
Chief Financial Officer
Elizabeth Blose has served as the bank's Chief Financial Officer and Senior Vice President since 2018. She has a strong background in the finance and banking industry and holds a Bachelor of Science degree in Economics and a Master of Business Administration degree with an emphasis in Finance. Not surprisingly, Blose admits she's a "numbers geek" and is a vocal proponent of data-driven decision-making.
Blose began her banking career in 2001 working for Wells Fargo's mortgage division. Prior to that she was a finance executive at Honeywell International for approximately 10 years. In 2009 she joined INTRUST Bank in Wichita, Kansas, where she was appointed executive vice president and CFO in 2011. She relocated to Austin in 2013, landing a position in Frost Bank's insurance division before joining Pioneer Bank's executive team in 2015, becoming its CFO in 2016.
Her leadership philosophy embraces the importance of "practicing what you preach" and she believes in setting an example by working alongside her team. Involved in the community, Blose has volunteered with organizations including DECA (high school business program) and Riverbend Church women's ministry.
Blose is a Pittsburgh native and a die-hard Steelers fan — regardless of the team's recent performances. She considers herself an "east coast girl" and loves getting into what she calls "sister mischief" when getting together with her older and younger sisters. Married for over 30 years, she's the proud mother of two now-grown Austinites and enjoys running and biking along the many trails in Austin.