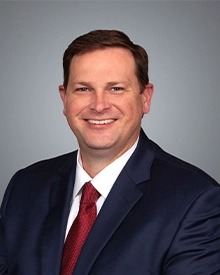 Senior Vice President
Chief Lending Officer
Raised in Central Texas, Evan started his banking career in high school as an intern for the credit department with Texas National Bank in Waco. After completing his BS in Agricultural Economics from the University of Arkansas, he worked as a lender at ANB Financial in Fayetteville, Arkansas. Upon returning to Central Texas Evan has owned and operated small businesses all while furthering his banking career. He has worked at both large institutions and locally owned banks.
Evan has spent time as a lender, investment adviser, and credit analyst and hopes to pull from these experiences to help grow CNB. He has always enjoyed the customer service aspects of the financial industry and working through complex loan scenarios to help clients navigate their needs most efficiently.
Evan is a member of First Methodist Waco, where he met his wife of 19 years. They have 2 children who are both active in Boy Scouts and band. Evan enjoys camping, cooking and the outdoors.