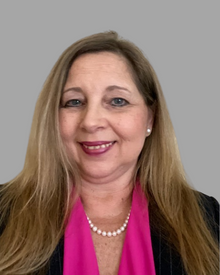 Market President
Killeen, TX
Call Claudia
Email Claudia
LinkedIN
Citizens National Bank Killeen Market President, Claudia Conroy began her banking career in 1992. 24 years of banking experience in the Killeen market, Claudia is well versed in the intricacies of commercial real estate lending, general real estate lending and small business banking. She is very knowledgeable with the Killeen, Temple, and Belton market regions.
Claudia has a strong sense of community with the greater Killeen area. She has served as a Board Member on the City of Killeen Zoning Board of Adjustment since 2017. She also is a member of the Killeen Chamber of Commerce. Claudia is very dedicated to her customers and loves being a community banker.
Claudia began her career at the Volksbank Nuernberg EG in Nuernberg Germany. Claudia is a graduate of the Realschule and Berufsfachschule in Nuernberg Germany with a bachelor's degree in accounting. She has 30 years of banking experience with the last 24 of those years in the Killeen market.
She loves spending time with family and likes to travel. Despite being born and raised in Germany, Claudia is a self-described Dallas Cowboys fanatic and loves UT football.