5 Reasons to Make the Switch to eStatements: Take Five with CNB (Part 3 of 5)
06/21/2022
By: CNB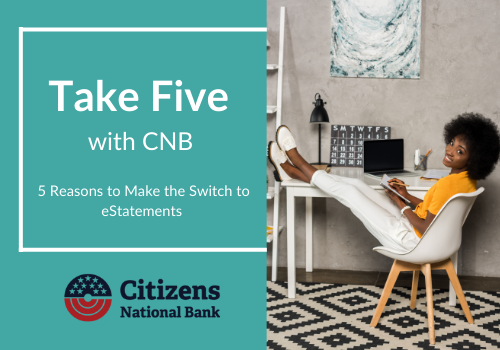 5 Reasons to Make the Switch to eStatements: Take Five with CNB (Part 3 of 5)
Still getting a paper bank statement in the mail? Now that you are an expert with online banking, let's learn the benefits of eStatements. An eStatement is a secure electronic version of your monthly account statement that you can view through online banking. It serves as an alternative to a mailed paper statement.
Here are five advantages of eStatements:
Reduce risk. Eliminate the possibility of someone stealing banking information from your mailbox. "The Postal Inspection Service data showed that mail theft reports soared by 600% over the past three years, from about 25,000 in 2017 to roughly 177,000 through Aug. 24 of 2020," according to NBC News.
Reduce waste. We are all aware there are reasons to reduce, reuse, recycle but did you know, "The climate benefits of reducing paper consumption are significant. If the U.S. cut its office paper use by 10 percent, greenhouse gas emissions would fall by 1.45 million metric tons. This is the equivalent of taking 280,000 cars off the road for a year," said Small Footprint Family.
Easy to use. Enroll in just a few clicks while you are logged into your online banking. Using eStatements and online bill pay might just mean fewer trips to the mailbox. Spend less time on paperwork and more time doing things you love.
Start taking full advantage of eStatements now, and if you have any questions about how to enroll contact your local branch today. Stay tuned next week for part 4 of Take Five with CNB: Digital Banking and learn 5 benefits of mobile banking. Subscribe to Take Five with CNB so you don't miss out.
Can't wait to learn about digital banking? Contact your local branch now and we would be happy to walk through our technology with you.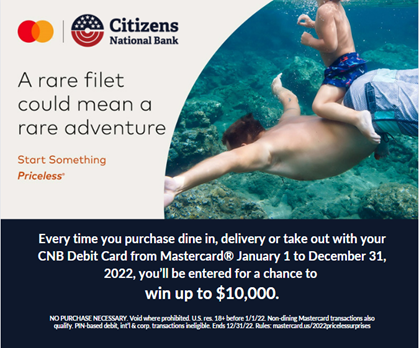 Additional Resources
View all posts