4 Notable Sessions from the 2022 Global Leadership Summit
08/15/2022
By: CNB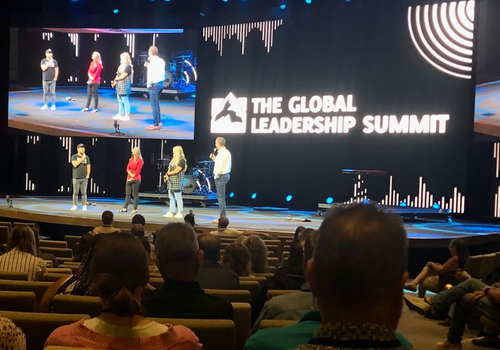 Many of our clients are amazing business leaders so we thought you would enjoy a few things we learned at the recent Global Leadership Summit. Here are summaries and links to sessions notes from four of our favorite sessions as shared by the Global Leadership Network.
Ron Howard's Rule of Collaboration
"As a leader, you set the vision or the tone for your team or organization. However, you also know that the vision and the end goal does not necessarily belong to you alone. Great leaders hire people they trust, who can speak into the vision and enhance the organization's objectives. Welcoming people in to collaborate on the end goal in a meaningful way ultimately makes talented people feel valued, builds trust, and creates greatness."
Click here for session notes.
For more leadership tips from Howard check out this Inc. article Why Genuinely Collaborative Leaders Follow the Rule of 6 and 1.
Bob Iger 10 Principles Necessary for True Leadership
"Every leader must grapple with being relevant to reach a changing culture while being faithful to your organization's history. Drawing from his book, The Ride of a Lifetime, Bob Iger joined Paula Faris for a fireside chat sharing how he has navigated this delicate balance and what lessons he has learned after writing his book and leading through the pandemic. This interview helped our audience understand how to lean into the power of optimism, assess risk, navigate industry disruption, and build bridges with those whose values might be different than their own."
Click here for session notes.
Jon Acuff's Building a Winning Mindset
"Most leaders are aware of the importance of mindset, that our thoughts turn into our actions, which turn into our results. At the same time, self-defeating, repetitive thoughts—which New York Times best-selling author Jon Acuff calls "Soundtracks"—can undermine our efforts to develop and maintain a positive and effective mindset. In this talk at GLS22, Jon helped leaders and teams learn how to start developing a winning mindset by retiring the broken soundtracks that have been holding them back and replacing them with new ones that propel them forward."
Click here for session notes.
Vanessa Van Edwards's The Science of Connection & Leadership Charisma
"As a leader navigating the daily whirlwind of conversations, agendas, and goals, how can we deeply and authentically connect with those around us? During her talk at GLS22, researcher, Vanessa Van Edwards explored the three levels of connection and how you can use masterful conversation strategies to unlock deeper levels of trust with the people around you. Building connections utilizes the relational strength of your team (or your family) to accomplish the great mission you have before you."
Click here for session notes.
Vanessa is also on the recent episode for The Global Leadership Podcast where "she dives into some of the content from her brand-new book, Cues: Master the Secret Language of Charismatic Communication."
We hope you enjoyed these leadership insights. Check out the Global Leadership Network's 2022 Summer Reading Recommendations for Leaders for even more great leadership advice.
#CommunityBanking #CNBankTexas #CitizensNationalBank #DifferentBetter #SmallBusinessBanking #CommunityBanking
View all posts