5 Advantages of Using Debit Cards: Take Five with CNB (Part 1 of 5)
05/31/2022
By: CNB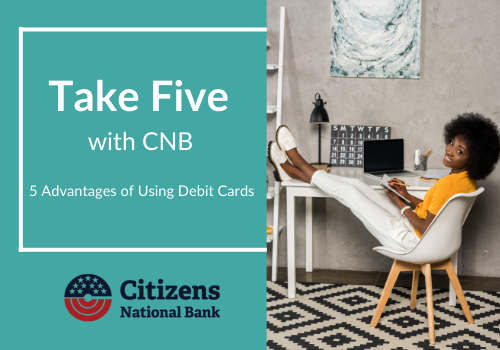 5 Advantages of Using Debit Cards: Take Five with CNB (Part 1 of 5)
How do you pay for your daily spending? Cash and checks are both becoming less common forms of payment. Most people prefer the convenience of cashless transactions and using their debit cards over credit cards. Debit card transactions post quickly to your account which helps you manage your spending, where credit card transactions do not. Keep reading to find out five easy ways take full advantage of your debit card.

Perhaps the best reason to use a debit card instead of a credit card is interest. Credit cards are known for charging high interest rates that can fluctuate. According to WalletHub, annual percentage rates on credit cards typically range from 14.56% to 18.32%. If you are not paying the balance off every month, paying with credit cards will cost much more in the long run. The Balance explains The True Cost of Credit Cards. When you pay with a debit card, you avoid expensive interest charges that really add up over time.
Avoid Fees
Unlike credit cards, which often come with annual fees, late payment charges, substantial foreign transaction fees, and other costly extras, debit cards typically have few or no fees. Use your debit card wisely and avoid incurring fees. For example, some banks charge a few dollars (on top of the ATM's fee) when you withdraw cash from an unaffiliated ATM. But ATM fees can be avoided. When you know you'll need cash, you can visit an in-network ATM to get it; or you can take advantage of a store's cash back option when you pay with your debit card.
Since a debit card acts like an electronic check, taking money from your checking account as you use it, you could incur an overdraft fee if you use your card when your account balance is low or negative. However, this is another easy-to-avoid fee. Many banks offer overdraft protection services ranging from transferring from another account to rejecting your card for insufficient funds so that you can't accidentally overdraw your account. With online and mobile banking, you can check your balance anywhere to make sure you have enough money before using your debit card.
Also, many online payment sites charge a percentage or fee to use your credit card but do not charge a fee when you use your debit card.
3. Stay within your budget
When you charge a purchase on a credit card, you don't have to pay for it until the next month, and even then, your minimum payment may be lower than the full balance. Credit Karma explains, "when you use a debit card to make a purchase or pay a bill, you're using your own money, drawn directly from the bank account the card is linked to. Using a credit card is essentially using the card issuer's money, which it's agreed to loan to you, to make a purchase or pay a bill."
Real-time payment holds you accountable to spend no more than you have. It's easier to make impulsive purchases with a credit card because you can have the item now and worry about paying for it later.
Just as debit cards hold you accountable to spend responsibly, they also make it easier to stick to a budget and resist overspending. If you write a paper check, it may not be cashed for days or weeks. Debit cards work well with online and mobile banking as well as budget management apps and websites because you can see your up-to-the-minute balance and account activity.
If your wallet has ever been stolen, you know the painful truth that the cash is gone forever. Debit cards protect against theft because no one can use your card at an ATM without knowing the PIN. The recent addition of chips to debit cards offers further protection. Some debit cards also offer security protection for online shopping so that only you can make purchases with your card. You can also set up eAlerts to get notified when there is activity on your card. Through online banking or the mobile banking app, you can activate alert notifications delivered to you via email, text, secure online banking messages, push notifications or use any combination of delivery channels.
Sometimes you just need to get some cash and many debit cards offer free ATM withdrawals at their bank's ATM or refunded ATM fees at other ATMs not associated with their bank. CNB offers a free checking account, Advantage Plus Checking, that earns a high rate of interest when qualifications are met. Also included with Advantage Plus Checking are automatic ATM fee refunds (up to $25.00 per monthly qualification cycle), no minimum balance to earn rewards, no account maintenance fee, and free digital banking services including free online banking & bill pay, free mobile banking with mobile deposit and free eStatements.
Start taking full advantage of your debit card now and if you don't already have a debit card with us, contact your local branch today. Stay tuned next week for part 2 of Take Five with CNB: Digital Banking and learn 5 Advantages of Online Banking. Subscribe to Take Five with CNB so you don't miss out.
Can't wait to learn about digital banking? Contact your local branch now and we would be happy to walk through our technology with you.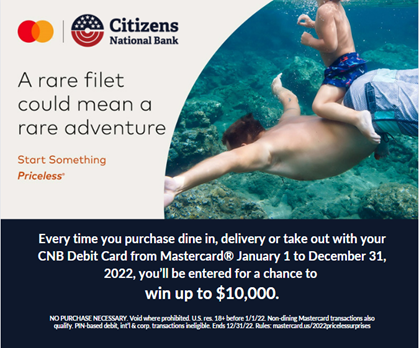 View all posts