5 Advantages of Online Banking: Take Five with CNB (Part 2 of 5)
06/07/2022
By: CNB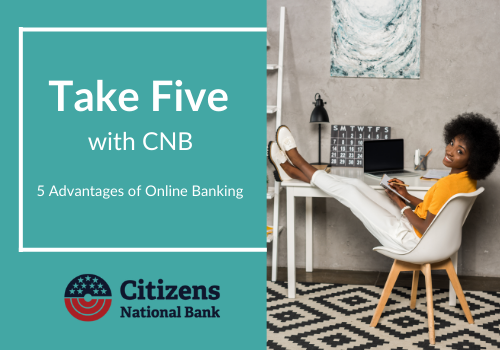 Want an extra 30 minutes in your day? Are you still driving to the bank? Last week we reviewed the advantages of debit cards, now let's learn the benefits of online banking. Banking from anywhere, anytime makes everything you do with your finances a bit easier. Here are five advantages of online banking:
24/7 account access. Whether you're on vacation or it's the middle of the night, you can manage your banking. Check if a transaction has cleared and even keep an eye out for unauthorized transactions so you can dispute them immediately. Your account balances are always a few clicks away. For tax purposes or personal records, download statements and transactions anytime.
Simplified bill payments. Send payments using your bank's online banking platform. You don't have to write out checks and go to the post office to buy stamps and mail bills and then worry whether they will arrive in time to avoid late fees. Set up recurring automatic payments to pay your bills online and never worry about your check getting lost in the mail. Set up payees once, and then you can simply choose that payee every time you need to make a payment.
Transfer money. It's easy to move funds between your accounts, such as from checking to savings, using online banking. It's more convenient than going to a bank in person or using an automated phone service, which requires you to provide information when prompted. If you are transferring money between different types of accounts at the same bank, the transfer is immediate.
Mobile banking. Once enrolled in online banking, download the mobile banking app. Quickly check up on your accounts when you are out shopping, transfer funds so you don't overdraw, or make sure a merchant hasn't double-charged you. Deposit checks in seconds using the camera on your phone to take photos of the front and back of the check.
Sync with budget apps. Online banking allows you to transfer information from your accounts to Quicken, Microsoft Money, Microsoft Excel, and other applications. Many budgeting apps like Mint can be synced with your online banking making sticking to your budget much easier.
Not convinced yet? See what Forbes has to say in Nine Key Reasons Online Banking Benefits Small Business, "Small business owners especially stand to gain a lot from using their bank's online services to generate value and save time -- time that can be dedicated to growing the organization instead. To help business owners better navigate the world of online financial operations, we asked nine members of Forbes Finance Council for their opinions on some of the key benefits of online banking that entrepreneurs tend to overlook."
Start taking full advantage of online banking now. If you are not enrolled, follow the steps below. To enroll in Business Online Banking contact your local branch.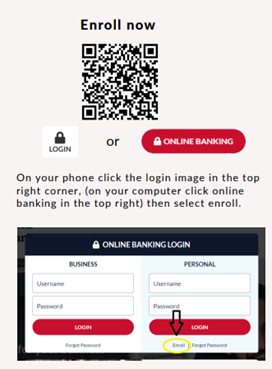 Stay tuned next week for part 3 of Take Five with CNB: Digital Banking and learn 5 Reasons to Make the Switch to eStatements. Subscribe to Take Five with CNB so you don't miss out.
Can't wait to learn about digital banking? Contact your local branch now and we would be happy to walk through our technology with you.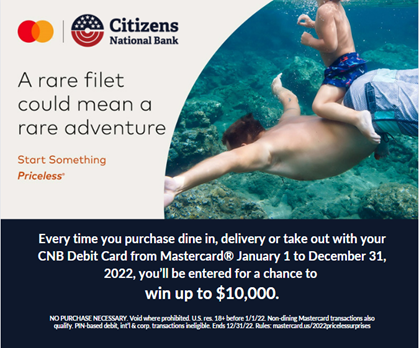 View all posts