5 Benefits of a Digital Wallet: Take Five with CNB (Part 5 of 5)
07/05/2022
By: CNB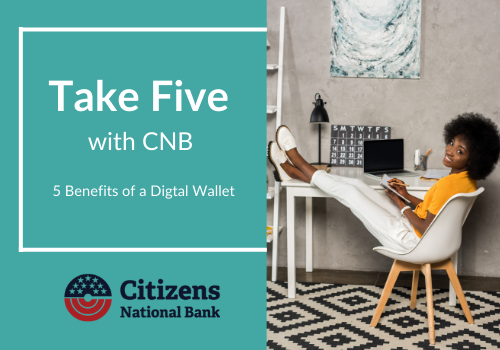 Last week we reviewed the advantages of mobile banking, now let's learn the benefits of a digital wallet. A digital wallet is an electronic service that securely stores your bank and credit card information along with other account details on your smartphone, smartwatch, or computer.
Apple Pay®, Google Pay™, Samsung Pay®, Fitbit Pay, and Garmin Pay are all types of digital wallets. All of these can be used to make payments in person or online. They allow you to complete transactions in less time because you don't have to pull out your debit card for online or in-store purchases.
For example: Apple Pay is a type of digital wallet that can be used on Apple devices. Once you've stored your card information in Apple Pay, you can use the digital wallet to make payments in person using your iPhone or Apple Watch, if the retailer has the right equipment. Or, you can make purchases online or in the app when you see the Apple Pay logo.
Many smartphones come with a digital wallet preinstalled that only needs to be activated and set up. Apple Pay, for example, is standard with iPhones. If you don't have a wallet app on your phone or you prefer to use another one, you can visit your app marketplace to download your preferred wallet.
Here are five advantages of a digital wallet:
1. Fast. No need to look for your card when making a purchase; your mobile wallet is ready to go.
2. Convenient. Mobile wallet payments are accepted at a growing number of merchants, in apps and online.
3. Secure. Your card number is never exposed to merchants, keeping your transactions safe. "Digital and mobile wallets bring a unique sense of security to the table: thanks to tokenization, you can make countless purchases from retailers and the merchants never see their actual card info. Tokenization provides retailers with a solution that secures credit card information, but also enables retailers to conveniently meet credit card data security, compliance and reporting requirements. For example, if you add your normally issued credit card to your Apple Pay wallet, Apple captures your primary account number and sends it to the issuer of the card to create a specific token for that card and device together. When you make a payment using the card through the digital wallet, the merchant only receives the payment token to authorize the payment, never dealing directly with your sensitive data," says Forbes
4.Contactless. According to Forbes, "With stores and restaurants on lockdown, consumers have turned to buying products online for delivery to their homes or for curbside pickup. While digital wallet payments make it easier for people to complete online purchases, these types of payment also offer a way for consumers to make purchases without physical contact to a card payment terminal. With the emphasis on reducing physical interactions in public, the conveniences of digital wallets were well fitted to the shifts consumers were making amidst the pandemic."
5. Simple. Setup in minutes. Choose your preferred mobile wallet and get started today.
Start taking full advantage of a digital wallet now, and if you have any questions about how to setup, contact your local branch today. Stay tuned next week for a recap of Take Five with CNB: Digital Banking and make the most out of the tools we covered. Subscribe to Take Five with CNB so you don't miss out.
Can't wait to learn about digital banking? Contact your local branch now and we would be happy to walk through our technology with you.
Additional Resources
View all posts