CNB Commercial Real Estate Quarterly Report - Q3 2023
10/26/2023
By: CNB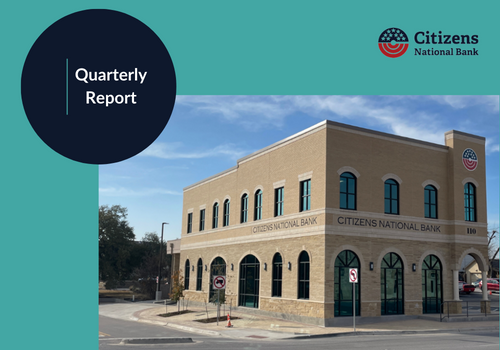 Get the latest insights on Central Texas' commercial real estate market straight from the source with our quarterly report.
We poured through nearly a dozen Central Texas commercial real estate resources, so you don't have to. Understanding the landscape of our local market is essential to staying ahead and making informed business decisions. That's why we've compiled all the recent statistics from Central Texas' commercial real estate markets into one comprehensive quarterly report. The CNB Central Texas Commercial Real Estate Quarterly Report contains information tracking up-to-date trends on vacancy rates, sales prices, new construction projections, lease stats, and more that will give you a better view of both your current investments and where you could be looking for potential gains.
Key Takeaways
Mortgage rates and 10-Year US Treasury continue to increase over 2023. This is the opposite of projections made at the beginning of 2023.
High mortgage rates have taken hold on the Austin market. There is more inventory but still few affordable options.
Office rents continue to decrease after record-high vacancies.
Key Highlights
Economy
Merchants are Optimistic about Future Business
Service sector sentiment rose more quickly this month than last, according to the Dallas Fed's Service Sector Outlook Survey. The labor market within the service sector continued to grow, with both the Employment Index and the Hours Worked Index remaining strong. Strong expectations for future general business remained unchanged.
Retail sales saw little growth as the Dallas Fed's Retail Outlook Survey remained in negative territory. Retailers' perception of broader business conditions continued to worsen with the Outlook Uncertainty Index falling by eight points. The Employment Index remained unchanged but strong, indicating employment is continuing to grow. Expectations for future retail growth continued to increase as the Future Sales Index rose over five points. The Future General Business Activity Index and the Future Employment Index remained positive.
Projects
ROCKDALE (Austin Business Journal) – Xebec Holdings LLC has announced plans for the 31,000-acre former Alcoa aluminum plant it purchased in November 2021. The company will develop 3,300 of those acres into 50 million sf of industrial space for what it's calling the Advanced Manufacturing and Logistics Campus. Xebec's plans for the 50-square-mile "megasite," along FM 1786 just south of US 79, includes three dozen buildings up to 1.25 million sf each.
TAYLOR (Austin Business Journal) – EVK Homes LLC aims to bring a new 40-acre subdivision to life on the northern edge of this Williamson County city near the new Samsung Factory. The development, to be called North Village, would have 174 homes—a mix of single-family homes, townhouses, cottages, and fourplexes. Ten acres have been set aside as retail space ideally for small stores, restaurants, and potentially a hotel.
AUSTIN (Community Impact News) – Austin-Bergstrom International Airport's (IBIA) $164 million West Gate expansion project, the largest yet in a series of airport upgrades, has officially broken ground. The 84,500-sf expansion will include three new boarding gates; five new waiting areas; replacements for 12 boarding bridges; new concessions, restrooms, children's play area, family and nursing rooms; meditation room; and pet relief room.
Also included in the report:
Austin Market
Local Projects
Notable leases, sales and statistics for office, retail, industrial, and apartments
Housing / Construction & Demographics
Capital Markets
And More
See the full Q3 report https://www.cnbanktexas.com/about/news-events.html
At CNB we work diligently to provide you with quality, timely information and support services throughout your commercial real estate journey. We hope our latest report has equipped you with what you need to make smart investments for your business now and into the future. For further questions or inquiries about the market outlook or advice on specific projects, please contact a lender to discuss your needs.
View all posts