5 Benefits of Mobile Banking : Take Five with CNB (Part 4 of 5)
06/27/2022
By: CNB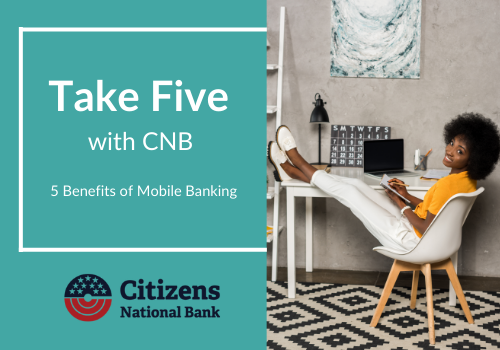 Last week we reviewed the advantages of eStatements, now let's learn the benefits of mobile banking. Banking from anywhere, anytime makes everything you do with your finances a bit easier. "Mobile banking is already a pervasive trend; according to Insider Intelligence's Mobile Banking Competitive Edge Study, 89% of survey respondents said they use mobile banking. Further, a massive 97% of millennials indicated that they use mobile banking. Mobile banking is not solely for younger generations, however, as 91% of Gen Xers and 79% of baby boomers also reported seeing the benefits of these services."
Here are five benefits of mobile banking:
24/7 account access. Whether you're on vacation or it's the middle of the night, you can manage your banking. Check if a transaction has cleared and even keep an eye out for unauthorized transactions so you can dispute them immediately. Your account balances are always a few clicks away. It's a fast and secure way to access your accounts from virtually any phone or mobile device. Debit card management for personal banking lets you track spending, set up transaction notifications, and more.
Save time. With mobile check deposit you can use your smartphone to deposit a check anytime; no need to drive to the bank. Simply open the CNB mobile app, take a picture of the front and back of the check you want to deposit, and the app will prompt you for the deposit amount.
Transfer money. It's easy to move funds between your accounts, such as from checking to savings. If you are transferring money between different types of accounts at the same bank, the transfer should go through right away. If you're transferring money to an account at a different bank, it may take a bit longer. ACH and wire origination for business banking lets you move money via our ACH and wire transfer services. Make and receive vendor payments 24/7 – electronically.
Increased security. Have peace of mind knowing your transactions are secure. We use the same encryption and security technology for mobile banking that we use for online banking. Citizens National Bank uses multi-factor authentication (MFA) in online banking and the iPhone application in mobile banking. MFA is an additional layer of security that requires you to identify an image and phrase in addition to providing your password. There is also an option to set up eAlerts and stay connected with security and transaction alerts so you know what's going on.
Simplified checkout. With a digital wallet, you can add your debit card to Apple Pay®, Google Pay™, and more and access your cards 24/7 from the mobile app. We will go into this more next week.
Mobile banking offers you the ability to view account balances and recent transactions, transfer funds between your accounts and even pay your bills. Mobile banking provides you with the ultimate in convenience and allows you to manage your finances anytime, anywhere from any mobile phone. Start taking full advantage of mobile banking now, and if you have any questions about mobile banking contact your local branch today. Stay tuned next week for part 5 of Take Five with CNB: Digital Banking and learn 5 benefits of a digital wallet. Subscribe to Take Five with CNB so you don't miss out.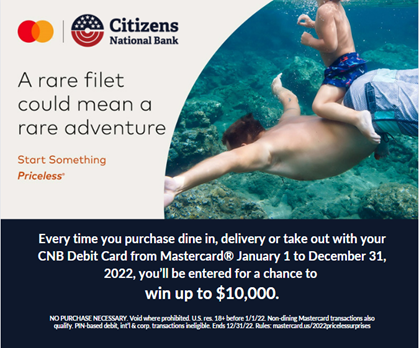 Can't wait to learn about digital banking? Contact your local branch now and we would be happy to walk through our technology with you.
View all posts