10 Benefits of Community Banking with Citizens National Bank
03/14/2023
By: CNB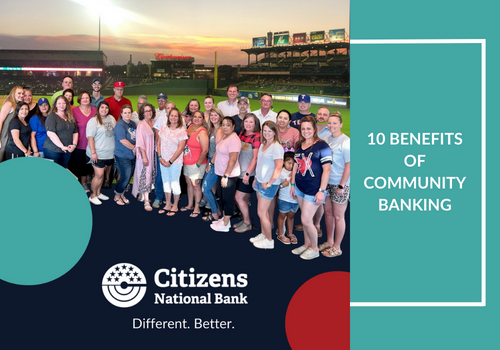 "While community banks account for just 15 percent of the banking industry's total loans, they hold 30 percent of all CRE loans, 36 percent of small business loans, and 70 percent of agricultural loans."
- Federal Deposit Insurance Corporation (FDIC) Community Banking Study
Are bank closures causing you concern? Community banking offers many advantages to both customers and businesses. From personalized services to supporting small businesses, community banks provide a variety of benefits that big banks cannot. Here are ten reasons why you should consider banking with your local community bank:
Personalized Service – Community bankers get to know their customers on a first-name basis, offering a level of service not often found in larger banks.
Local Focus – Community banks are more likely to invest in the local community than large national banks that have money spread out over many different markets.
Low Fees and Competitive Interest Rates – Community banks can offer low fees and competitive interest rates because they do not have the same overhead costs as their bigger counterparts.
Fast Decision-Making – Larger organizations require multiple levels of approval before making decisions on loans or other financial matters, which can take weeks or months to process. Community lenders typically make decisions much faster, giving customers access to funds quickly when needed for something like starting a business.
Supporting Small Businesses – Because they are locally owned, community banks often have an interest in helping small businesses get off the ground and succeed.
Community Support – Community banks give back to their communities through donations and sponsorships of local events or programs.
Security – Banks that are part of FDIC insurance provide a layer of security for customers' funds should something happen to the bank itself.
Local Lending Opportunities – Many national banks do not offer certain types of loan products, such as agricultural loans or housing loans for rural areas, but community banks often focus on these needs specifically so residents can access capital when needed.
Personalized Service – Community banks often provide more personal service like knowing your name when you arrive.
Employee Support – As part of their community-minded focus, many community banks offer extra benefits to their employees such as health insurance or education assistance programs. This allows them to recruit and retain better talent, which can lead to improved customer service.
Community banking has a lot of advantages, making it an attractive option for clients who want personalized services and local banking tailored specifically to their needs. With the security provided by FDIC insurance, low fees, faster decision-making, and other benefits, you could find yourself turning to your local community bank for all your financial needs!
Contact a lender to discuss our current CRE and agriculture loan specials.
FURTHER READING
Follow us on LinkedIn for regular updates.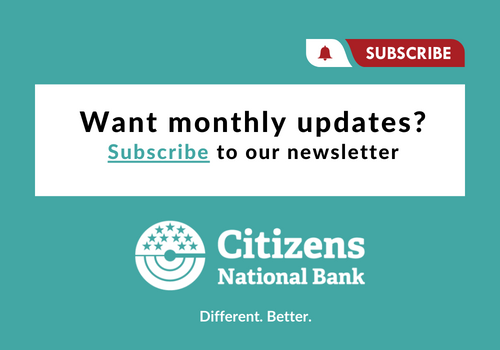 View all posts