Cybersecurity Awareness Month and more CNB News
10/25/2022
By: CNB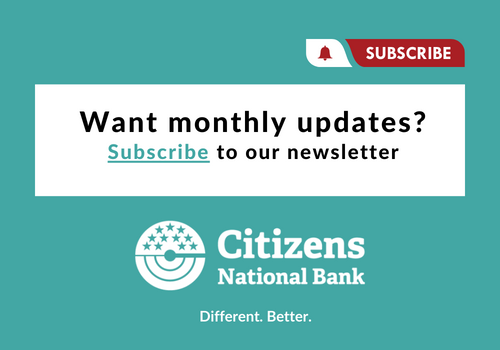 Serving You and Your Local Community
Three Top Commercial Real Estate News Headlines
1. Data centers are finding new homes in old buildings from JLL
2. An Expert Look at COVID's Lasting Effect on Retail Leasing from LoopNet
3. Texas Land Market Latest Developments from TAMU

Rates Increased Again
Great news! The Advantage Plus Checking interest rate has increased. Earn 2.60% APY* on your balance with free checking that truly pays. Learn More about our rewards checking.

Limited time CD offer! 24 Month No Penalty CD - 2.25% APY* or 15 Month CD - 2.70% APY* Learn More
5 Benefits to a No Penalty CD.

CNB in the Community
We love supporting our local communities. Here's where we have been lately:

CNB News
Team CNB is doing such a wonderful job helping our customers open so many new CDs we decided to thank the team with an ice cream party!

Cybersecurity Month
Fraudulent texts and emails often have typos. Real banks use spell check. Get more tips on our blog 4 Phishing Scams. Keep your Money Safe, Learn Red Flags of Phishing.

What Would You Do with $10,000?
Two months left to win. Every time you make a purchase with your CNB Mastercard® Debit Card now until December 31, 2022, you'll be entered for a chance to win up to $10,000. Click for details.
View all posts