2022 Letter from the CEO
12/20/2022
By: CNB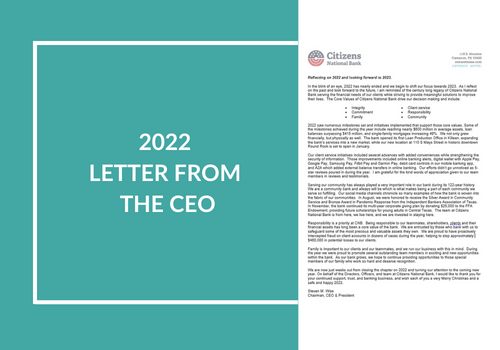 Reflecting on 2022 and looking forward to 2023.
In the blink of an eye, 2022 has nearly ended and we begin to shift our focus towards 2023. As I reflect on the past and look forward to the future, I am reminded of the century long legacy of Citizens National Bank serving the financial needs of our clients while striving to provide meaningful solutions to improve their lives. The Core Values of Citizens National Bank drive our decision making and include:
Integrity
Commitment
Family
Client service
Responsibility
Community
2022 saw numerous milestones set and initiatives implemented that support those core values. Some of the milestones achieved during the year include reaching nearly $600 million in average assets, loan balances surpassing $415 million, and single-family mortgages increasing 49%. We not only grew financially, but physically as well. The bank opened its first Loan Production Office in Killeen, expanding the bank's services into a new market, while our new location at 110 S Mays Street in historic downtown Round Rock is set to open in January.
Our client service initiatives included several advances with added conveniences while strengthening the security of information. Those improvements included online banking alerts, digital wallet with Apple Pay, Google Pay, Samsung Pay, Fitbit Pay and Garmin Pay, debit card controls in our mobile banking app, and external transfers (A2A) in online banking. Our efforts didn't go unnoticed as 5-star reviews poured in during the year. I am grateful for the kind words of appreciation given to our team members in reviews and testimonials.
Serving our community has always played a very important role in our bank during its 122-year history. We are a community bank and always will be which is what makes being a part of each community we serve so fulfilling. Our social media channels chronicle so many examples of how the bank is woven into the fabric of our communities. In August, we were honored to receive the Silver Award in Community Service and Bronze Award in Pandemic Response from the Independent Bankers Association of Texas. In November, the bank continued its multi-year corporate giving plan by donating $25,000 to the FFA Endowment, providing future scholarships for young adults in Central Texas. The team at Citizens National Bank is from here, we live here, and we are invested in staying here.
Responsibility is a priority at CNB. Being responsible to our teammates, shareholders, clients and their financial assets has long been a core value of the bank. We are entrusted by those who bank with us to safeguard some of the most precious and valuable assets they own. We are proud to have proactively intercepted fraud on client accounts in dozens of cases during the year, helping to stop approximately $460,000 in potential losses to our clients.
Family is important to our clients and our teammates, and we run our business with this in mind. During the year we were proud to promote several outstanding team members in exciting and new opportunities within the bank. As our bank grows, we hope to continue providing opportunities to those special members of our family who work so hard and deserve recognition.
We are now just weeks out from closing the chapter on 2022 and turning our attention to the coming new year. On behalf of the Directors, Officers, and team at Citizens National Bank, I would like to thank you for your continued support, trust, and banking business, and wish each of you a very Merry Christmas and a safe and happy 2023.
Steven M. Wise
Chairman, CEO & President
View all posts